Why air travel has been a huge mess lately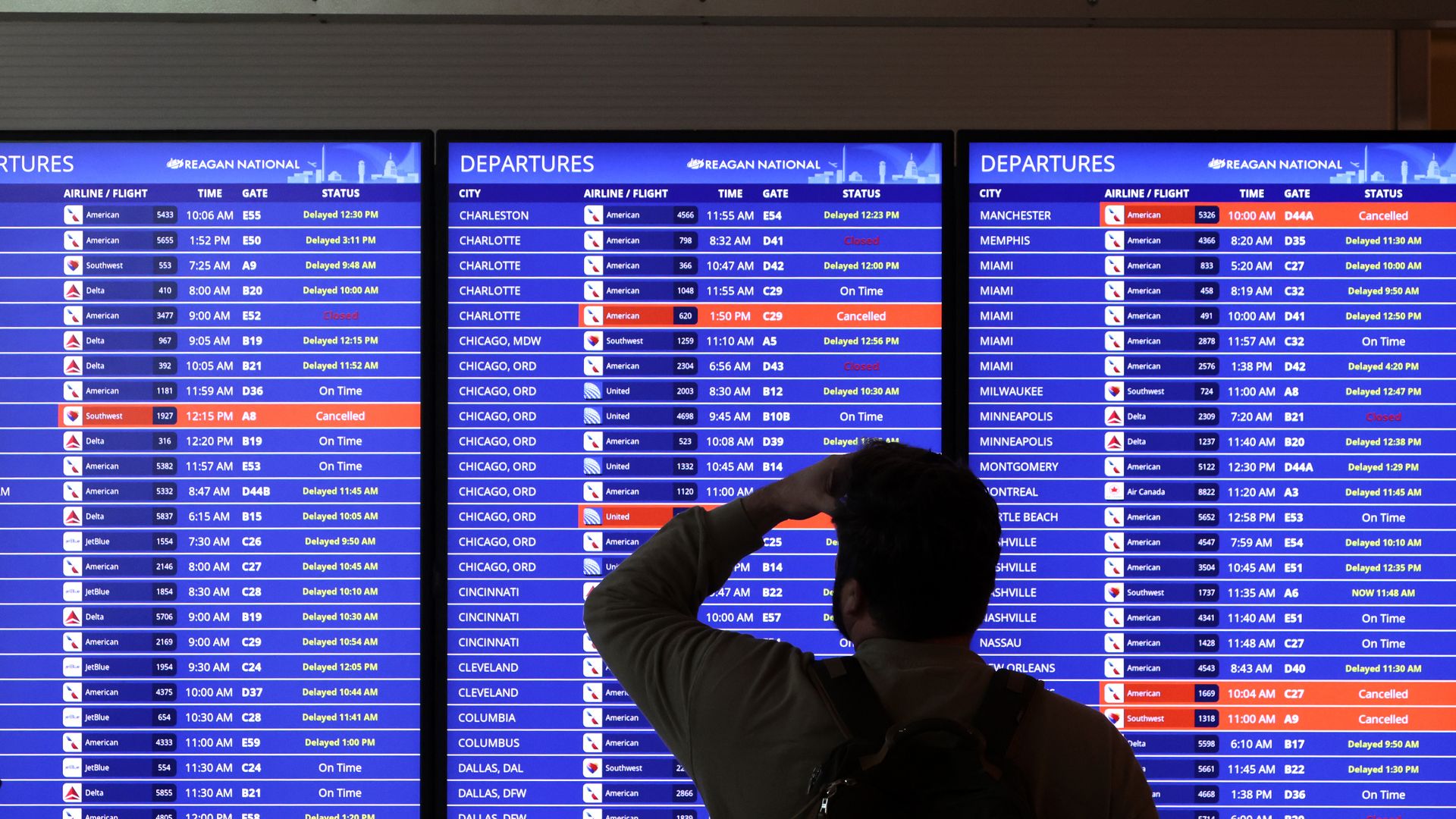 A traveler looks at a flight information board at Ronald Reagan Washington National Airport on Jan. 11, 2023. Photo: Alex Wong/Getty Images
There's plenty of blame to go around for the recent spate of delays and cancellations that have left travelers angry and cost airlines billions of dollars.
Driving the news: U.S. airline departures were grounded for several hours Wednesday morning amid an issue with a Federal Aviation Administration (FAA) system that sends pilots safety alerts and other critical info.
Normal operations resumed around 9 a.m. ET Wednesday — but the ripple effects could be felt for days in the form of further delays and cancellations.
About 1,300 U.S. flights were canceled Wednesday as of 4 p.m. ET, while more than 9,000 were delayed, per FlightAware.
The FAA suffered another computer issue on Jan. 2 that led to significant flight delays in Florida.
Backstory: Transportation Secretary Pete Buttigieg and the airline industry have been pointing fingers at each other for months about who's to blame for travel headaches dating back to last summer.
Responsibility for Wednesday's troubles falls squarely on the FAA.
That's a turnabout for Buttigieg, who oversees the FAA and has been pushing to hold the aviation industry accountable for repeated disruptions — including Southwest's holiday meltdown.
Buttigieg on Wednesday rejected the suggestion that the FAA should reimburse travelers for delays caused by its system failure, per Reuters.
What they're saying: "Today just encapsulates how archaic our aviation infrastructure system is," Brian Kelly, founder of travel website The Points Guy, told Axios.
"While the airlines, which are private companies, need to invest in their technology, so does the government. And as taxpayers, we have to hold the government accountable."
The U.S. Travel Association, meanwhile, labeled Wednesday's disruption a "catastrophic" failure, and said federal lawmakers need to modernize air travel infrastructure to make sure the FAA can "meet demand safely and efficiently."
The intrigue: That's what some airline executives — notably United Airlines CEO Scott Kirby — have been saying for months.
"The FAA needs more funding for appropriate staffing … [and] we in aviation have to commit to helping them get that," Kirby told business leaders at a recent U.S. Chamber of Commerce aviation summit.
"We need to modernize air traffic control. They're doing it with old technology, and they're doing it without enough staffing, and we have to fix that or nothing else is going to matter."
The big picture: Managing the skies is getting harder for a bunch of reasons:
More people are flying since the height of the pandemic, which means airlines are adding flights to their schedules and packing planes.
But they've sometimes struggled operationally, partly due to staffing shortages, as they race to meet increased demand.
The FAA, which has a stellar safety record, is also stretched to the limit as it tries to manage about 45,000 flights per day — including commercial airlines, cargo carriers and private planes.
Plus, the national airspace is getting more crowded and complex with the addition of hundreds of thousands of drones, plus the occasional rocket launch and, soon, air taxis.
Of note: With climate change yielding more extreme weather events, hazardous conditions are becoming more of a factor in air travel, too.
What's next: The FAA's five-year funding and authority are up for renewal by Congress later this year, and these issues will surely be under a microscope.
Source: Read Full Article