The Pro-Trump Riots Put in Sharp Focus How Policing Reinforces White Privilege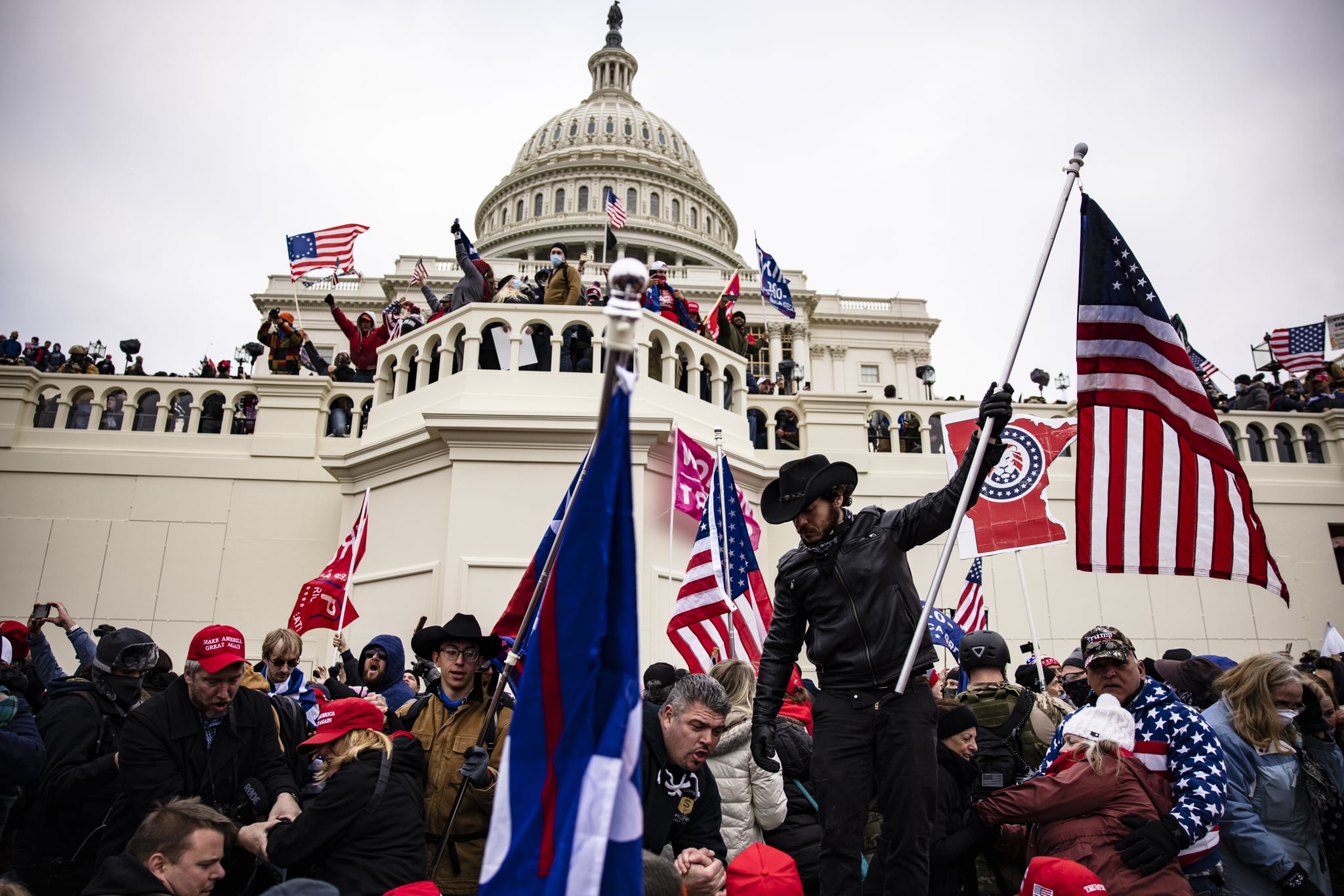 Yesterday was supposed to be a quiet day for me. I had fallen behind on work, and I expected that the only hindrance to catching back up would be the proximity of my Netflix tab to the Google doc I was working in. But right as I was settling into the optimal laptop-hunch, my coworker sent me a screenshot that read, "US Capitol Breached." The thoughts running through everyone's minds during the insurrection in Washington DC were ones of concern and confusion. But after the initial questions, like, "How could this happen?" I could only wonder how no one had been seriously, or even fatally, harmed by police.
A mob of pro-Trump supporters had marched to the nation's sacred site, some flaunting white supremacist paraphernalia and riot gear. They were emboldened by Republicans' relentless, yet woefully unproven claims of election fraud and determined to initiate "trial by combat," as instructed by the president's lawyer, Rudy Giuliani, mere hours before.
I watched this band of seditious criminals plow through barricades, scale the Capitol walls, and fight their way into the rotunda and then into the chambers of Congress, where they defaced property and casually posed for photos at the lectern or with their feet propped up on the desk of the speaker of the House. Even once the Capitol was cleared, they remained on the grounds long after the enacted curfew. At each step, I waited pleadingly for the police to intervene and protect these symbols of freedom and democracy. Where were the rubber bullets and the hastily erected fences and the fountains of tear gas that marred the otherwise peaceful Black Lives Matter protests in DC last year? Why were there no busloads of bruised and bloodied bodies, following mass arrests?
Did the police simply run out of enthusiasm for their sworn duty, just as insurgents stormed a federal monument that hadn't been breached since the War of 1812? Last summer, Donald Trump vehemently supported jailing demonstrators for 10 years, telling governors that would ensure that "you'll never see this stuff again." Certainly, by his standards, defiling the private chambers of the person who is third in line to the presidency would merit at least 25 years. Surely breaking down the doors to the Senate is far more disrespectful than kneeling during a national anthem. And if that's the case — if the actions taken yesterday were so unforgettably heinous — where were the police? Well, one was taking selfies with these terrorists, while others simply let them walk on by.
Source: Read Full Article