Mesopotamia, home to the gardens of Babylon and Eden, is running dry
Save articles for later
Add articles to your saved list and come back to them any time.
Albu Jumaa, Iraq: Most schoolchildren learn the name: Mesopotamia – the Fertile Crescent, the cradle of civilisation.
Today, much of that land is turning to dust.
The word itself, Mesopotamia, means the land between rivers. It is where the wheel was invented, irrigation flourished and the earliest known system of writing emerged. The rivers here, some scholars say, fed the fabled hanging gardens of Babylon and converged at the place described in the Bible as the Garden of Eden.
Now, so little water remains in some villages near the Euphrates River that families are dismantling their homes, brick by brick, piling them into utes and driving away.
A young resident of al-Najim, Iraq, a small agricultural village north of Nasiriyah that has been covered by shifting sand dunes. Credit: Bryan Denton/The New York Times
"You would not believe it if I say it now, but this was a watery place," said Adnan al-Sahlani, a science teacher here in southern Iraq near Naseriyah, a few miles from the Old Testament city of Ur, which the Bible describes as the hometown of the Prophet Abraham.
These days, "nowhere has water," he said. Everyone who is left is "suffering a slow death."
You don't have to go back to biblical times to find a more verdant Iraq. Well into the 20th century, the southern city of Basra was known as the Venice of the East for its canals, plied by gondola-like boats that threaded through residential suburbs.
The bridge that used to run over the waters of the large man-made Lake Hamrin, north-east of Baqubah, Iraq oin June. The impact of dams, power stations, and irrigation projects in Turkey and Iran has been drastic.Credit: Bryan Denton/The New York Times
Indeed, for much of its history, the Fertile Crescent – often defined as including swaths of modern-day Iraq, Israel, Lebanon, Syria, Turkey, Iran, the West Bank and Gaza – did not lack water, inspiring centuries of artists and writers who depicted the region as a lush ancient land. Spring floods were common, and rice, one of the most water-intensive crops in the world, was grown for more than 2000 years.
But now, nearly 40 per cent of Iraq has been overtaken by blowing desert sands that claim tens of thousands of acres of arable land every year.
Salt crystals accumulated on former agricultural fields, in al-Bahar, a south of Basra, Iraq. Persistent drought has battered Iraq over the past three years.Credit: Bryan Denton/The New York Times
Climate change and desertification are to blame, scientists say. So are weak governance and the continued reliance on wasteful irrigation techniques that date back millennia to Sumerian times.
A tug of war over water has also intensified water shortages for tens of millions of people across the region.
Another culprit is common to large swaths of the world: a growing population whose water demands continue to rise, both because of sheer numbers and, in many places, higher living standards, increasing individual consumption.
In Iraq, the fallout is everywhere, fraying society, spurring deadly clashes among villages, displacing thousands of people every year, emboldening extremists and leaving ever-more land looking like a barren moonscape.
Residents prepare to travel into marshlands near Chibayish, Iraq. As water levels fall, the once verdant wetlands that formed a massive, shallow, reed-filled inland sea have been reduced to a thinning network of brackish canals. Credit: Bryan Denton/The New York Times
Depleted, dirty rivers and groundwater are causing outbreaks of cholera, typhoid and hepatitis A. The creeping desert sands are swallowing farmland, forcing people to crowd into cities. Rivers and canals have dipped so low that Islamic State group militants cross them easily to attack villages and security outposts, and fish farmers have threatened government regulators who have tried to close them down for violating water restrictions.
The country is even changing underground.
In many areas, water pumped from below the surface is too salty to drink, the result of dwindling water, agricultural runoff and untreated waste. "Even my cows won't drink it," a farmer said.
The Hanging Gardens of Babylon. A hand-coloured engraving probably from the 19th century after the first excavations in the Assyrian capital. It is believed the gardens did not hang, but grew on the roofs and terraces of the royal palace.Credit: Author unknown/CC
For the rest of the Middle East and some other areas of the world, Iraq and its neighbours offer an unmistakable warning.
"Because of this region's vulnerabilities, one of the most vulnerable on the planet, it is one of the first places that is going to show some kind of extreme succumbing, literally, to climate change," said Charles Iceland, director of water security for the World Resource Institute.
Iraqis' water comes from the government in red plastic barrels, in rations of about 600 litres a month per family. Even when used sparingly, it barely lasts a week in the heat, said Sahlani, who lives in the village of Albu Jumaa.
A dust storm in central Baghdad. Now nearly 40 per cent of Iraq has been overtaken by blowing desert sands that claim another 10,000 hectares every year. Credit: Bryan Denton/The New York Times
As recently as the 1970s and 1980s, Iraq's Water Ministry built artificial lakes and dams to hold the immense annual overflow from winter rains and gushing snow melt from the Taurus Mountains, the headwaters of the Tigris and Euphrates.
Even today, traces of Iraq's greener past can be seen every spring. In the Anbar desert, a brief winter rain can turn the shallow valleys green and speckle them with flowers. Along the Tigris and Euphrates rivers, the water still nourishes trees beside the narrow banks, with bands of green fields on either side.
But even those bands have shrunk in recent decades.
Adnan al-Sahlani tries to cool off in Shaat al Kabir, Iraq, near an illegal, generator-powered pumping station that he claims allows farmers to overdraw from the canal, leaving little for those further downstream.Credit: Bryan Denton/The New York Times
Since 1974, Turkey has built 22 dams, hydroelectric plants and irrigation projects on the Tigris and Euphrates.
Then, in the early 2000s, Iran started building more than a dozen smaller dams and tunnels on tributaries to the Tigris, devastating Iraqi provinces such as Diyala, which was known just 10 years ago for its peaches, apricots, oranges and dates. The tributaries from Iran are the only source of water in the province, other than the dwindling rainfall.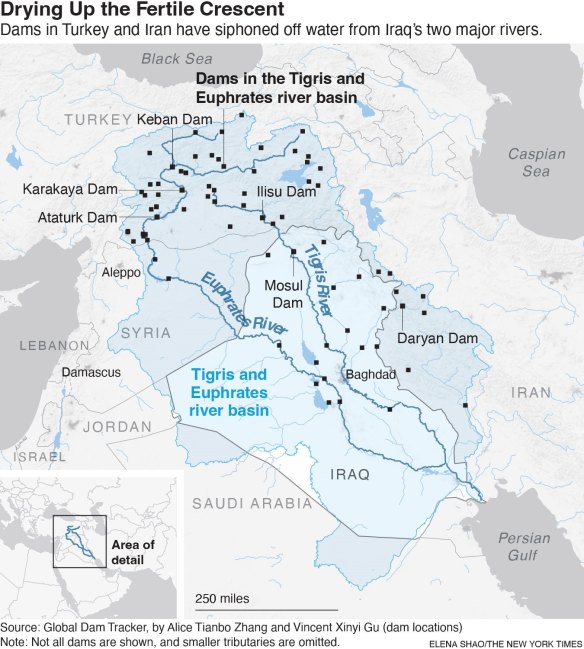 Credit: The New York Times
The impact has been drastic. The water flowing into Iraq has dropped by almost 50 per cent on the Euphrates and by about one-third on the Tigris since major dam building began in the 1970s, according to statistics from Iraq's Water Ministry.
Hashem al-Kinani and his family have felt the changes first hand. For generations, they farmed 8 hectares east of Baghdad, on the Diyala border, facing one trial after another.
First, the American invasion and the ouster of Saddam Hussein bit into the state's support of farmers. Then, in 2006, al-Qaeda moved in and killed many men, leaving their headless bodies in ditches. Hashem lost an uncle, and the family house was bombed. Making matters worse, rainfall has become more erratic and gradually diminished. As the Iranian dams came online, river water became too scarce to grow fruit.
Worldwide, countries share nearly 900 rivers, lakes and aquifers, according to the United Nations, and although a treaty exists to govern their use, fewer than half of all countries have ratified it. Notably absent from the list are upstream nations such as Turkey, Iran and China.
A garbage-strewn canal in Basra, Iraq, show the years of neglect.Credit: Bryan Denton/The New York Times
In 2021, Iraq's Water Ministry threatened to drag Iran to the International Court of Justice for taking its water. But Iraq's Shiite-dominated government, which is close to Tehran's rulers, dropped the issue.
Now, the water flowing into eastern Iraq has been cut so much that flood plains have become parched fields. In some areas, Iraq's rivers and irrigation canals have become so feeble that they barely dilute the wastewater running into them.
Iraq's own growth has added to the strain. As its water dwindled, its population soared, from about 11.6 million in 1975 to more than 44 million today.
Pleas to Turkey to share more water have largely gone unheeded.
Young Iraqi boys search for fish in the stagnant waters of an almost-dry irrigation canal in al-Simsim, a village on the outskirts of Najaf, Iraq.Credit: Bryan Denton/The New York Times
In the summer of 2022, at the height of last year's drought, Turkey's ambassador to Iraq responded to Iraq's requests for more water by complaining that Iraqis were "squandering" it, calling on the Iraqi government to enact "immediate measures to reduce the waste". This year, when a similar request came, Turkey shared more water for a month before cutting back again.
Fixing Iraq's outdated farming techniques – which waste as much as 70 per cent of the water used for irrigation, according to a study done for the ministry – is paramount. But persuading farmers to change has been slow-going.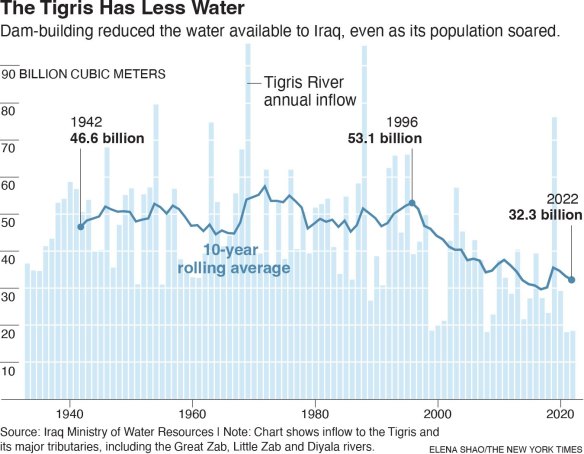 Credit: The New York Times
Past the urban sprawl of northern Naseriyah, with its small auto repair shops and vegetable stands, the land empties. Storm clouds gather in the late afternoon but then disperse without shedding a drop. Tufts of grasses, yellow and brown by late June, offer signs that crops grew here not so long ago.
The wind starts early each morning, blowing ceaselessly until dusk. It strips the topsoil, drying the land until all that is left is an earthen dust that piles on the quickly mounting dunes.
A short drive off the highway, deeper into the desert, lies al-Najim, a village being blown off the map. Thirty years ago, it had 5000 people. Today there are just 80 left. The temperature hovered at 50 degrees Celsius.
A family collects water jugs in Erbil, Iraq. A lack of municipal services in many areas has led residents to rely on private water delivery for all of their household needs. Credit: Bryan Denton/The New York Times
Muhammad Ajil Falghus, head of the Najim tribe, was born in the village. "The land was good, the soil was good," he explained. Until the early 2000s, he said, "we grew wheat and barley, corn and clover".
Now, all that grows are small groups of tamarisk trees planted as a bulwark against the sands.
The sprawling city of Sulimaniyah, Iraq, where a dramatically increasing population has put incredible pressure on municipal water resources.Credit: Bryan Denton/The New York Times
"We are living now on the verge of life," he said. "There is no agriculture, no planting possible anymore. This is the end of the line, the end of life. We wait for a solution from God, or from the good people."
This article originally appeared in The New York Times.
Most Viewed in World
From our partners
Source: Read Full Article