Far-right candidate Jair Bolsonaro wins Brazil presidential election
Official results show he won 56% of the vote with 94% of ballots counted, in Sunday's run-off against Fernando Haddad of the left-wing Workers Party.
In a victory speech broadcast live on Facebook, the president elect vowed to "change Brazil's destiny together" and pledged to follow "the bible and the constitution".
Supporters celebrated in the streets, setting off fireworks at Rio de Janeiro's Copacabana beach and, in Sao Paulo, gathering on the central avenue with banners and flags.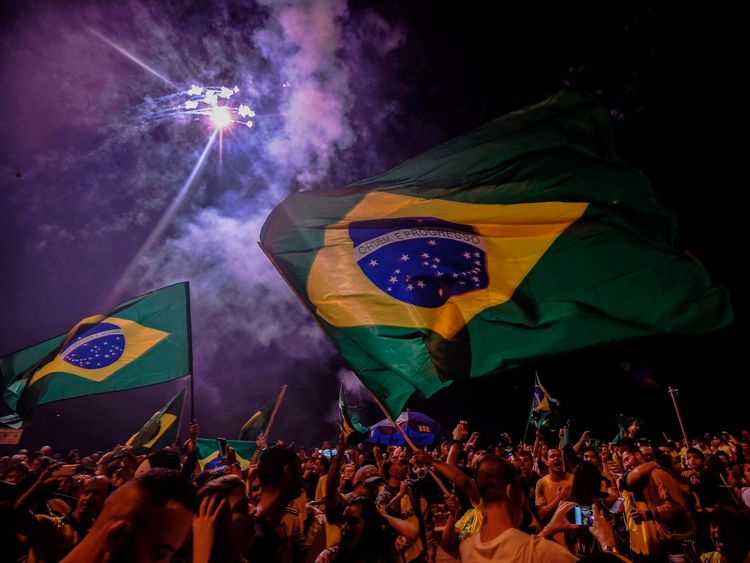 Casting himself as a political outsider, Mr Bolsonaro ran a campaign characterised by violent talk and far-right positions, including praise for Brazil's 1964-1985 military dictatorship, support for torture, and outright racism, misogyny and homophobia.
Two years ago he commented that the dictatorship's mistake was "to torture and not kill" leftist dissidents, and he has commented that he would rather his sons die than come out as gay.
Dubbed Brazil's Donald Trump, his policies include loosening gun ownership laws and allowing police to use more force. His numbers jumped by around 15% in September after he was stabbed in the stomach during a campaign event.
His opponent Mr Haddad had warned on Sunday that democracy and freedom were "at risk" in the election, echoing widespread fears that a Bolsonaro win would spell disaster for human rights and civil liberties.
But for a majority of Brazilian voters that did not eclipse the appeal of a man seen as promising radical change, in a country mired by years of political corruption, violence and an economic recession.
Mr Bolsonaro was a clear front runner for much of the campaign, winning 46% to Mr Haddad's 29% in the first round of elections on 7 October.
But the race narrowed after last-minute criticism over the weekend – including from a supreme court justice who tweeted he was "scared" by a Bolsonaro presidency, and a prominent YouTuber who took issue with comments that leftists would be run out of Brazil.
In a highly unusual move supreme court justice Jose Dias Toffoli read parts of the constitution to reporters after he voted, stressing that "the future president must respect institutions, must respect democracy, the rule of law".
Mr Haddad had promised to bring back the boom years Brazil experienced under left-winger Lula da Silva, who led initial polls by a wide margin but was banned from running in the election due to a corruption conviction.
More follows…
Source: Read Full Article