Bail relaxed for Auscoin founder to attend wedding, manage souvlaki stores
A cryptocurrency founder charged with trafficking cocaine, ice and other drugs has had his bail conditions changed so he can attend his brother's wedding and bucks night and oversee his chain of souvlaki stores.
Sam Karagiozis, the Lamborghini-driving founder of the Auscoin cryptocurrency and a self-proclaimed "serial entrepreneur", is charged with importing cocaine, MDMA and ketamine and with selling those drugs and the drug ice.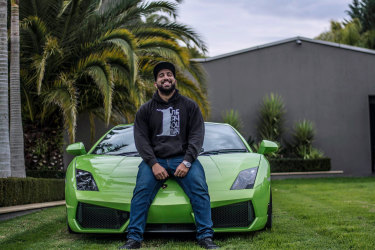 Auscoin founder Sam Karagiozis faces serious drug charges.
Federal police allege he and other men trafficked more than 30 kilograms of drugs in 2016 and 2017.
Mr Karagiozis, 29, was charged almost two years ago and granted bail in mid-2019. In the Melbourne Magistrates Court on Tuesday he had his bail conditions relaxed so he could attend his brother's bucks night and wedding this month and oversee the running of his Greek-themed food stores.
In seeking the changes, defence counsel Dermot Dann, QC, said Mr Karagiozis had complied with bail conditions since his release and wanted a curfew condition dropped so he could be best man to his brother George on January 30 and attend the bucks night two weeks earlier. Seeing his brother get married would "hopefully be a once-in-a-lifetime event", Mr Dann said.
Mr Dann said the dropping of the curfew would also allow his client to be at his souvlaki stores at night. Mr Karagiozis has up to 10 stores, the court heard, but had been unable to be at any outlets in Melbourne's outer suburbs because of the nightly curfew.
The accused man's partner is also due to give birth in April and the couple wanted to avoid any potential trouble from them going to hospital at night, Mr Dann said.
Prosecutors opposed granting variations to Mr Karagiozis' bail given the serious charges against him, but magistrate Andrew McKenna ruled there was justification in seeking the changes because a wedding was an important part of people's lives and the request was not unreasonable.
However, Mr McKenna warned Mr Karagiozis could not discuss his charges or court case with co-accused Fox Emmanuel-O'Neil, who is also part of the bridal party. There is a non-association clause in Mr Karagiozis' bail conditions, but it will be suspended for when the men attend the bucks night and wedding.
"They can talk about how wonderfully well the night is going or the weather or the pandemic, but nothing about the proceedings," the magistrate said.
Mr Karagiozis, of Bulleen, is on a $600,000 surety and must report to police twice a week and cannot leave Victoria under the conditions of his bail.
He and Mr Emmanuel-O'Neil will appear before a hearing in March which will determine whether they face trial.
Tuesday's hearing was told prosecutors and police considered their case against Mr Karagiozis stronger than when he was first charged in March 2019 because of the statements of witnesses who alleged he was the ringleader of the drug syndicate.
Police allege the syndicate used the dark web and bitcoin accounts to source, buy and distribute drugs as part of a multimillion-dollar importation operation.
Most Viewed in National
Source: Read Full Article