Conservative groups oppose bipartisan rail safety bill after Ohio derailment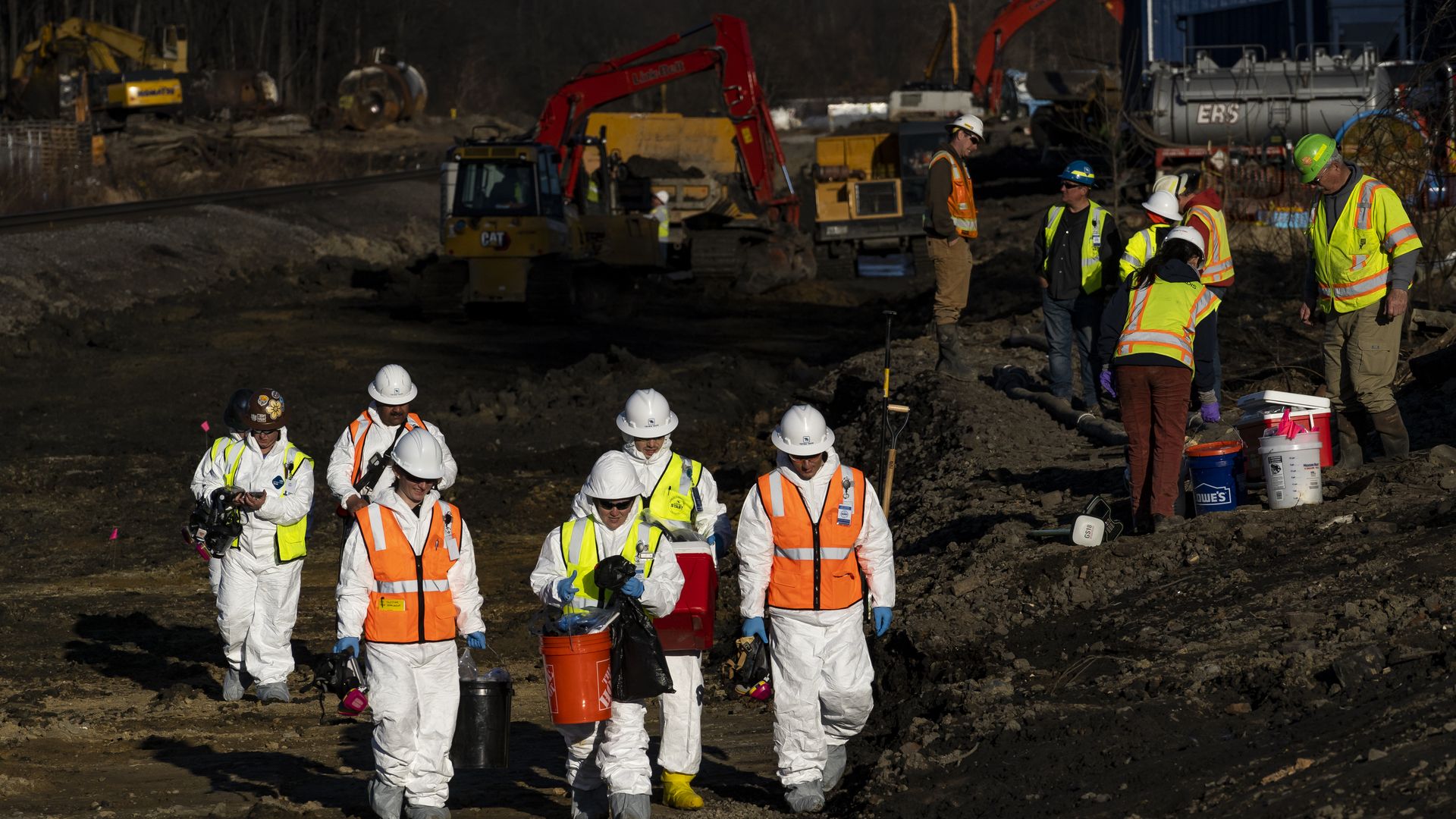 Members of the Ohio EPA and U.S. EPAcollect soil and air samples from the train derailment site in in East Palestine, Ohio, on March 9. Photo: Michael Swensen/Getty Images
A coalition of more than a dozen conservative groups is pushing back against a bipartisan rail safety bill that lawmakers introduced after a freight train carrying hazardous chemicals derailed in East Palestine, Ohio, in February.
Why it matters: Several right-leaning members of Congress have already endorsed the legislation, which aims to prevent a similar disastrous derailment.
If it becomes law, the Railway Safety Act of 2023 would in part set new safety requirements and procedures for trains carrying hazardous materials, strengthen inspection standards for trains carrying those materials, and increase fines for safety violations.
It was introduced by Sens. J.D. Vance (R-Ohio), Sherrod Brown (D-Ohio), Marco Rubio (R-Fla.), Bob Casey (D-Pa.), Josh Hawley (R-Mo.), and John Fetterman (D-Pa.)
What they're saying: The conservative groups — including FreedomWorks, the National Taxpayers Union, and the Conservative Action Project — said in a letter sent to lawmakers on Monday that the legislation would "do little to improve safety while creating gross inefficiencies for thousands of businesses."
They argued it would give the Transportation Department "unimaginable authority," though they also characterized the department — which is responsible for regulating U.S. rail safety — as a "struggling agency."
"More broadly, we ask that lawmakers consider potential unintended consequences of the Railway Safety Act of 2023 and understand that despite the preventable accident in Ohio, U.S. railroads are safe overall," the letter says.
By the numbers: Between 1990 and 2021, there were at least 54,570 train derailments in the U.S. — an average of 1,760 derailments per year —according to Bureau of Transportation Statistics data.
In total, there were 76,309 rail accidents during that time, and 10,382 injuries and 399 fatalities as a result, according to the data.
The big picture: Several other advocacy groups, including the National League of Cities and SMART Transportation Division — a union that represents rail workers — have expressed support for the bill.
President Biden has also endorsed the legislation, saying: "I encourage Republicans and Democrats alike to move quickly to advance these commonsense rail safety measures and send me a bill to sign into law."
Go deeper: How the derailment in East Palestine changes the calculus on railroad regulation
Source: Read Full Article