Jordan hit by deadly flash floods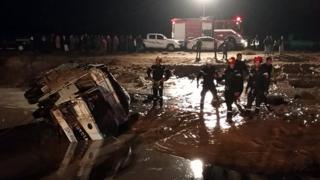 Flash floods in Jordan have killed at least seven people and forced the evacuation of nearly 4,000 tourists from the ancient city of Petra.
Rescue teams and helicopters are searching for five people whose car was swept away in Madaba, south-west of the capital, Amman.
Downpours also triggered a state of emergency in the port city of Aqaba.
It comes two weeks after 21 people, mostly children, drowned in a flash flood in the Dead Sea area.
A civil defence spokeswoman told AFP news agency on Friday that a child was among the seven people killed by floods in the Dabaa region, south of Amman.
A main road connecting the capital with the south of the country was also cut off, she added.
In Petra, flood waters in some areas rose up to 4m (13ft), state TV reported. Footage showed people on the city's main road trying to stay clear of the water.
Evacuated tourists were taken to safe areas, government spokeswoman Jumana Ghunaimat said.
She said more heavy rain was expected on Saturday and residents in affected areas were being urged to evacuate their homes.
Jordan has suffered weeks of heavy rain. There was a public outcry last month after 18 children on a school trip were swept away, leading to the resignation of the country's education and tourism ministers.
Source: Read Full Article