Heavy Gaza-Israel fire traded overnight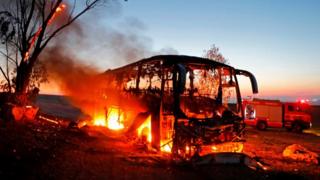 Israel says its fighter jets have hit dozens of Palestinian militant targets overnight in Gaza after militants fired 370 rockets at Israel.
At least three Palestinians died in the strikes on Gaza, while a civilian was killed in a rocket attack in the Israeli town of Ashkelon.
Both Israel and Hamas, which rules the Gaza Strip, have threatened to escalate their actions.
Violence erupted when a covert Israeli mission got exposed in Gaza on Sunday.
Seven Palestinian militants, including a Hamas military commander, were killed during the incident, including a member of the Israeli undercover unit.
How serious is the upsurge?
After a brief lull following Sunday night's violence, a barrage of rockets was launched towards Israel late on Monday. A bus, which had reportedly been carrying troops, was hit by an anti-tank missile in a kibbutz, seriously wounding a male soldier.
Overnight rockets hit border communities, including the city of Ashkelon several miles north of Gaza, where a building was struck, killing a civilian and seriously wounding another.
Israel carried out waves of air strikes against Hamas and the smaller Palestinian Islamic Jihad faction across the Gaza Strip.
The Israeli military said more than 100 military targets were hit, including "a unique vessel" belonging to Hamas in a harbour in southern Gaza.
Palestinian officials said at least three people, two of them militants, were killed and another died after being injured earlier.
The building housing Hamas's Al-Aqsa TV was hit and destroyed after being evacuated, disrupting broadcasts. Israel said the outlet "contributes to Hamas's military actions".
RAW FOOTAGE: The skies of southern Israel RIGHT NOW. Dozens of rockets are being fired from #Gaza at Israeli civilians. pic.twitter.com/Iu6QwzUo8l
End of Twitter post by @IDFSpokesperson
It is one of the most serious rounds of fighting since Israel and Hamas fought a war in 2014.
Israel has warned it is prepared to "dial up its response" to Hamas, while Hamas's military wing said it was ready to "expand the circle of fire" against Israel.
UN Middle East envoy Nickolay Mladenov said efforts were being made with Egypt to pull Gaza "back from the brink".
"The escalation in the past 24hrs is EXTREMELY dangerous," he tweeted on Monday night.
How did the violence start?
Palestinians said they discovered an undercover Israeli unit in a civilian car about 3km (2 miles) inside the Gaza Strip late on Sunday.
A firefight ensued in which the Hamas commander was killed. Israel launched air strikes and opened fire with tanks on the area, witnesses said. Six other militants were killed as well as one of the Israeli special forces soldiers.
The incident is reported to have happened east of Khan Younis, in the south of the territory.
Why did Israel kill the commander?
Due to the secrecy of the operation, Israel has not revealed specific details about the mission.
The IDF said, however, that the operation was "not intended to kill or abduct terrorists, but to strengthen Israeli security".
The BBC's Tom Bateman in Jerusalem says that according to a former Israeli general, the incident was likely to have been an intelligence-gathering operation that went wrong.
The exposure of such an operation by Israeli special forces inside Gaza would be extremely rare, he says.
Fawzi Barhoum, a spokesman for Hamas, denounced Sunday's incident as a "cowardly Israeli attack".
Why are Israel and Hamas enemies?
Hamas won Palestinian elections in 2006 and reinforced its power in the Gaza Strip after ousting West Bank-based Palestinian President Mahmoud Abbas's rival Fatah faction in clashes the following year.
While Mr Abbas's umbrella Palestine Liberation Organisation (PLO) has signed peace accords with Israel, Hamas does not recognise Israel's right to exist and advocates the use of violence against it.
Israel, along with Egypt, has maintained a blockade of Gaza since about 2006 in order, they say, to stop attacks by militants.
Israel and Hamas have gone to war three times, and rocket-fire from Gaza and Israeli air strikes against militant targets are a regular occurrence.
Sunday night's incident comes after apparent progress in an Egyptian- and UN-brokered process to mediate after a series of escalations between the two sides in recent months.
Source: Read Full Article