Israel And UAE Agree on 28 Direct Flights Per Week to Start Soon
Bolivia Votes for President After a Year Without Elected Leaders
Bolivians are voting in presidential and congressional elections on Sunday with the socialist movement seeking a return to power a year after their leader Evo Morales was ousted and fled the country.
Morales's ally Luis Arce, a U.K.-educated economist, is ahead in polls, but needs to avoid a run-off in which voters opposed to his socialist party can unite behind a single candidate.
His main opponent is former President Carlos Mesa, an ex-journalist who led the country from 2003-2005.
Polls are open from 8 a.m. to 5 p.m. and preliminary results are expected Sunday evening.
The vote is the first since last year's chaotic election, which led to violent unrest and accusations of fraud. Since then, Bolivia has been run by an unelected transition government which Arce and his supporters regard as illegitimate.
Under Bolivian election rules, a candidate can win in the first round with just 40% of the vote, provided there's a margin of more than ten percentage points over the runner-up. If no one wins in the first round, there'll be a runoff on Nov. 29.
Buttigieg blasts Trump foreign policy, calls him 'destabilizing force literally everywhere he goes'
Former South Bend, Ind., Mayor Pete Buttigieg once blasted Democratic presidential nominee Joe Biden for his foreign policy record, but now defends him while claiming that President Trump is a "disaster" in that area.
Buttigieg, who ran against Biden in the Democratic primaries, appeared on "Fox News Sunday" speaking in favor of Biden's campaign, and called Trump a "destabilizing force literally everywhere he goes."
Buttigieg, who joined Biden's transition team in September, had previously blasted the former vice president for supporting the Iraq war under President George W. Bush.
"He supported the worst foreign policy decision made by the United States in my lifetime, which was the decision to invade Iraq," Buttigieg once said.
This is a developing story. Check back for updates.
 
China Urges Japan to Reflect After Suga's Shrine Offering
China criticized Japan's Prime Minister Yoshihide Suga for sending an offering to a shrine for Japanese war dead, saying it was a "negative action" and that the country should reflect on its war history.
Foreign Ministry spokesman Zhao Lijian was responding to a question about Suga's offering to the Yasukuni shrine, reported by Japanese broadcaster NHK on Saturday.
The shrine honors 14 men convicted as war criminals and has long been a source of tension with China and others in the region who see it as a symbol of Japan's past military aggression.
— With assistance by Charlie Zhu, and Lulu Shen
Live updates: Hunter Biden's alleged emails become a campaign issue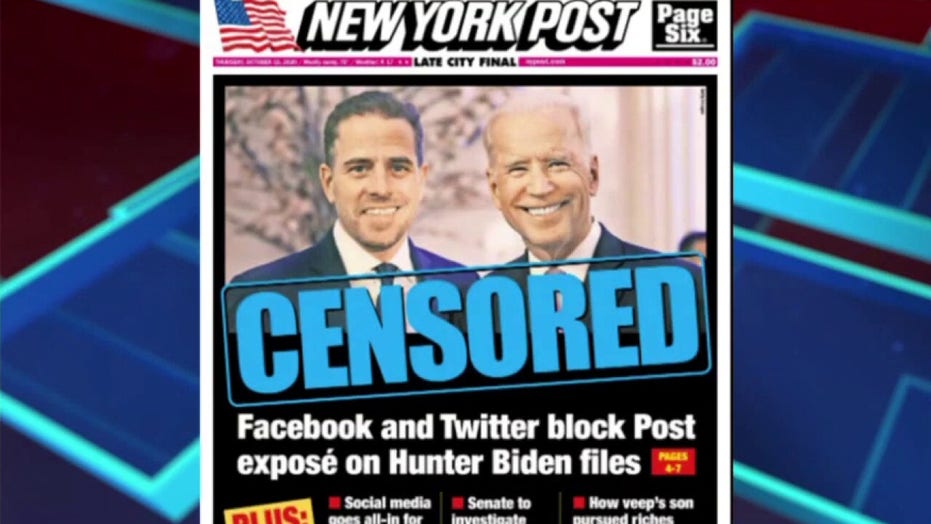 A deep dive into the Hunter Biden email scandal
Mike Huckabee joins 'Justice with Judge Jeanine' to weigh in on the Senate Judiciary subpoena for Twitter CEO after it blocked sharing of Hunter Biden story.
House Intelligence Committee Chairman Adam Schiff on Friday described revelations from a slew of emails in a laptop allegedly belonging to Hunter Biden as being part of a Russia-backed smear campaign.
"We know that this whole smear on Joe Biden comes from the Kremlin," Schiff said on CNN. "That's been clear for well over a year now that they've been pushing this false narrative about this vice president and his son."
The California Democrat was responding to questions about the origins of emails that were found on a laptop purported to belong to the son of Democratic nominee, as first reported by the New York Post.
Follow below for updates. Mobile users click here. 
'Ball is in EU's court' as chance of Brexit deal recedes, Gove says
Senior British minister Michael Gove said the chance of striking a post-Brexit trade deal with the European Union had fallen because the bloc had not been willing to intensify talks or produce detailed legal texts.
Asked by Sky News if EU negotiator Michel Barnier should come to London this week, Gove said the "ball was in his court".
He said both sides needed to compromise to reach a deal, but "the EU side is not doing so at the moment".
Bank of England's Bailey sees economic risks skewed "very heavily" to downside
Bank of England Governor Andrew Bailey said risks to economic growth in Britain were skewed very heavily to the downside, and reiterated that he expected economic output at the end of September to have been 10% lower than a year earlier.
"Ten percent is still a huge gap, let's be clear on that," Bailey told an online seminar for central bank governors hosted by the Group of 30.
"We're operating at an unprecedented level of economic uncertainty. Of course, that is heightened now by the return of COVID…. The risks remain very heavily skewed towards the downside," he added.
Israel And UAE Agree on 28 Direct Flights Per Week to Start Soon
Follow us @middleeast for more news on the region.
Israel and the United Arab Emirates agreed on a deal to allow for 28 direct weekly passenger flights connecting Tel Aviv with Abu Dhabi and Dubai, according to a statement from Israel's Transportation Ministry.
The flights will begin "within weeks" and came after significant commercial interest from airliners on both sides in the routes, the statement said. Both countries are in the process of developing economic and diplomatic agreements following the decision to normalize relations earlier this year.