Gold Edges Higher As Dollar Weakens
Euromoney In Talks With Consortium Regarding £14.61/ Share Cash Takeover Proposal
Euromoney Institutional Investor Plc (ERM.L), a British business and financial information company, confirmed Monday that it has received an approach from Astorg Asset Management S.àr.l and Epiris LLP, a consortium, regarding a possible cash offer for Euromoney of 14.61 pounds per Euromoney share.
The company issued the update following recent media speculation.
Euromoney said the proposal is subject to, amongst other matters, completion of confirmatory due diligence. The offer will not be adjusted for the payment of the interim dividend of 6.1 pence per Euromoney share that was announced in May and will be paid on June 24.
The proposal follows earlier approaches from the Consortium to the Board regarding a possible all cash offer for Euromoney at 11.75 pounds, 12.50 pounds, 13.10 pounds and 13.50 pounds per Euromoney share.
The company said its Board is engaged in discussions with the Consortium regarding the proposal. There can be no certainty that an offer will be made nor as to the terms on which any offer might be made.
European Shares Extend Losses On Growth Worries
European stocks fell sharply on Monday to extend losses from the previous session as hotter-than-expected U.S. inflation data along with news of a "ferocious" COVID-19 outbreak in Beijing's most populous district of Chaoyang sapped investors' appetite for riskier assets.
Weak UK growth data also raised concerns about the economic outlook in the region. U.K. GDP fell unexpectedly by 0.3 percent month-on-month in April, faster than the 0.1 percent drop in March, the Office for National Statistics said. This was the second consecutive contraction. GDP was forecast to grow 0.1 percent.
The pan European Stoxx 600 was down nearly 2 percent at 414.47 after plummeting 2.7 percent on Friday.
The German DAX also fell around 2 percent, France's CAC 40 index plunged 2.2 percent and the U.K.'s FTSE 100 was down 1.6 percent.
Valneva shares nosedived 25 percent after the French drug maker warned over prospects for its COVID-19 vaccine.
German wind turbine maker Nordex AG slumped 6 percent despite winning an order to supply 105 MW turbines for Krivaca, the first wind farm in eastern Serbia.
Likewise, Sanofi declined 1.4 percent despite reporting positive results from a COVID booster.
Ferrexpo lost 13 percent. The commodity trading and mining firm said the Group has recently been notified of further infrastructure damage as a result of a Russian missile strike in southwest Ukraine, which has reduced the Group's ability to use its barging operations that serve European customers.
All the President's Stock Portfolio
In his capacity as India's First Citizen, the President owns the shares of several public sector enterprises held by the government.
Ram Nath Kovind will step down as India's 14th President on July 24, 2022.
In his capacity as India's First Citizen, he owns the shares of several public sector enterprises held by the government.
How have these companies performed during his tenure?
The President has no role in running these concerns. He is only the titular owner of the shares of these companies. No liability of any kind attaches to him.
But the price movement of the companies'S shares does affect his portfolio.
Take a look at the portfolio of the President of India and the legacy he leaves his successor who will be elected on July 18.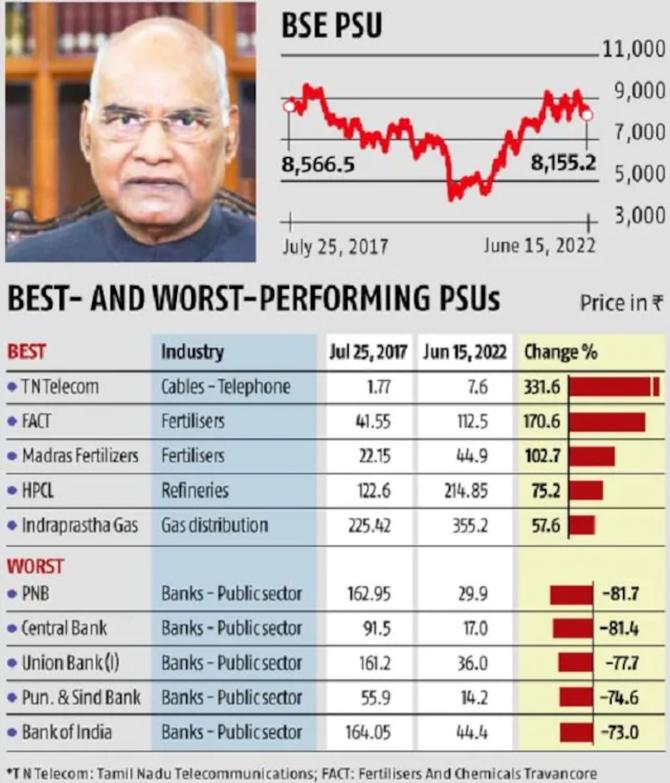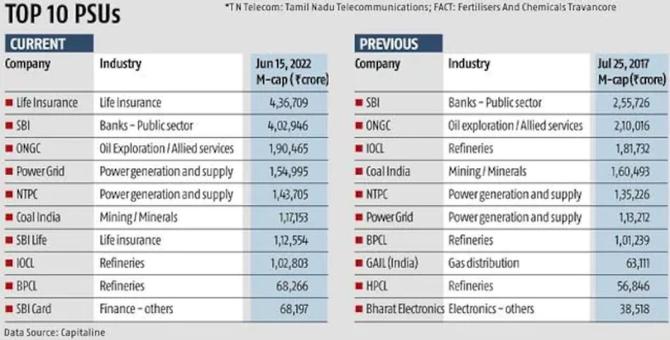 Pre-market Movers: BLUE, MSTR, VALN, RDBX, DBVT…
The following are some of the stocks making big moves in Monday's pre-market trading (as of 07.00 A.M. ET).
In the Green
bluebird bio, Inc. (BLUE) is up over 76% at $6.58
Redbox Entertainment Inc. (RDBX) is up over 18% at $15.59
Markforged Holding Corporation (MKFG) is up over 13% at $2.41
Anixa Biosciences, Inc. (ANIX) is up over 10% at $3.79
JE Cleantech Holdings Limited (JCSE) is up over 5% at $13.31
In the Red
MicroStrategy Incorporated (MSTR) is down over 20% at $161.89
Valneva SE (VALN) is down over 18% at $16.28
DBV Technologies S.A. (DBVT) is down over 17% at $2.27
Western Midstream Partners, LP (WES) is down over 14% at $23.50
Coursera, Inc. (COUR) is down over 13% at $13.61
Naas technology Inc., (NAAS) is down over 12% at $14.99
Silvergate Capital Corporation (SI) is down over 11% at $65.82
Decisionpoint Systems, Inc. (DPSI) is down over 11% at $4.49
Oil Prices Mixed As Growth Worries Weigh
Oil prices traded mixed on Monday after falling sharply in the previous session on inflation worries and global growth concerns.
West Texas Intermediate Crude oil futures for August settlement edged up 0.3 percent to $108.28 a barrel, while Brent crude futures for August delivery were down 0.2 percent at $112.94 a barrel.
A weaker dollar offered some support after a violent selloff last week on concerns a global recession would curb fuel demand.
The euro rose against the dollar today despite French President Emmanuel Macron losing an absolute majority in the country's parliamentary election.
Investors refocused on tight supplies, with Libya's crude oil production dropping to less than 200,000 barrels per day amid a continued shutdown of ports and facilities, a spokesman for the oil ministry said last week.
Also, oil products exports from China continued to decline, keeping global supplies tight.
Gold Edges Higher As Dollar Weakens
Gold prices were flat to slightly higher on Monday as the dollar declined amid a better risk environment.
Spot gold edged up 0.1 percent to $1,840.61 per ounce, while U.S. gold futures were up 0.1 percent at $1,842.85.
The euro rose against the dollar today despite French President Emmanuel Macron losing an absolute majority in the country's parliamentary election.
European equities steadied after falling sharply last week on inflation and interest-rate concerns.
Federal Reserve Governor Christopher Waller said on Saturday that he would back another rate hike of 75 basis point at the meeting in July.
In an interview with CBS News over the weekend, Cleveland Fed President Loretta Mester said that it will take a couple of years for inflation to move down to the central bank's 2 percent target.
ECB President Christine Lagarde is scheduled to address the European Parliament in Brussels later today, with investors awaiting more clues on the new crisis tool that would help prevent a disorderly blowout in borrowing costs in weaker eurozone countries.
Market participants also await a congressional appearance by U.S. Federal Reserve Chair Jay Powell this week that could highlight the U.S. central bank's resolve to guide inflation back to the Fed's 2 percent target.
U.S. markets remain closed today on account of Juneteenth National Independence Day.