Silent search for Brazil mudslide survivors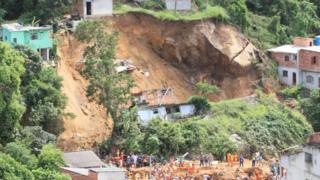 Rescuers are searching for survivors from a Brazilian landslide that killed 10 people, including at least one child.
The incident happened in Rio de Janeiro state in the early hours of Saturday, following two days of heavy downpour.
A boulder slid down a slope and hit a group of houses in the city of Niterói, according to the local fire service.
Volunteers have joined firefighters and law enforcement, creating a bucket chain to clear mud and debris.
The Globo news network said the group was working in silence so they could hear any victims that might be under the earth.
Lighting towers were assembled so that the search could continue through Saturday night and into Sunday morning.
Local media said at least 11 people have been rescued so far, including at least two children. The majority were reportedly found with the help of sniffer dogs.
A number of homes and a pizzeria are said to have been hit by the landslide, local media reported.
Landslides and floods are prone to happen in Brazil – the most deadly was in 2011, when whole hillsides collapsed after heavy rain, killing almost 1,000 people in Rio de Janeiro state.
Source: Read Full Article