Dog 'guarded dead owner for weeks'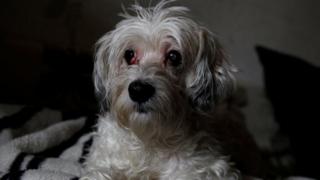 A dog had apparently been faithfully lying beside the body of its deceased owner for several weeks when the pair were discovered in a flat in Hungary.
The nine-year-old Havanese breed, called Zsazsa, was found in a Budapest apartment on Wednesday.
She was severely malnourished when found, animal protection officials in Budapest said.
Zsazsa's owner, a woman in her sixties, appeared to have died of natural causes.
Neighbours called the police after becoming concerned that the elderly woman had not been seen for several weeks, Reuters reported.
Police entered the apartment and found the dog lying next to its owner.
Rescuers say that the dog had some dried food, but she would have died if she hadn't been found.
Zsazsa was weak, unable to stand, and had to be dragged away from her dead owner, they said.
The organisation that rescued her said that she was now wagging her tail once again.
Source: Read Full Article