Brit Jamie McDonald running 6,000 miles across US 'doesn't know if he'll make it'
Jamie McDonald from Gloucester is halfway through his huge solo run – the distance of 230 marathons – to raise money for children's hospitals.
His journey began on the west coast at Cape Alava, in Washington's Clallam County, before going across the southern US and up the east coast.
The 32-year-old has faced a number of ordeals on the route, including plantar fasciitis in his foot and an encounter with a mountain lion.
https://www.instagram.com/p/BkzKckHlmLU/
Speaking from Austin, Texas, Mr McDonald revealed his motivation to carry on.
He told Sky News: "My last adventure was running across Canada and it ended up raising about half a million dollars for kids' hospitals out there.
"I spent most of my life in hospital as a kid – I used to have this rare condition called syringomyelia where sometimes I couldn't move my legs.
"So I started on a fundraising mission to give back – but it's kind of snowballed into these big adventures."
Enduring -40C temperatures and beaten and robbed in Banff, Alberta, Mr McDonald completed the journey of 5,000 miles to Vancouver in February 2014.
"I ran across Canada and got frostbite on the end of my nose… lost a bit of the end of it… so it was really about starting where I left off.
"So now I've got a one year visa to try and run the 230 marathons and to try and fundraise for kids' hospitals along the way."
The motivational speaker and author said he needs to "realistic" over whether he can complete his latest adventure.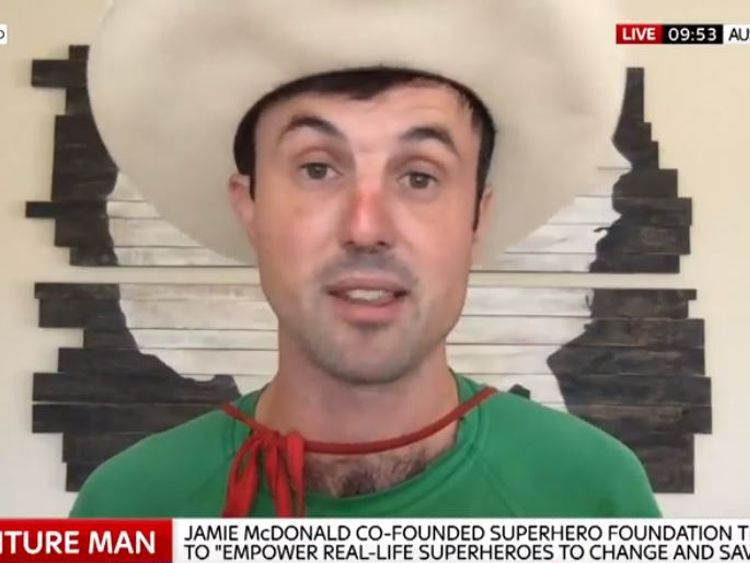 "It's been tough. I ended up running through the Arizonian desert in the hottest time of the year – like 50C (122F) – for about three months," he continued.
"I remember this one night on my run when this car pulled in and the driver said: 'Are you running that way?'
"I said yeah and she was like 'Ah, I think I should let you know that there was a mountain lion just down the road where you're running…'
"I ended up running it with no choice… she just drove off. And I got myself a little penknife… I don't know what that would have done!"
https://www.instagram.com/p/BosjT-aA9PV/
Revealing his doubts, he said: "At this stage, I've gone through a lot but I don't know if I can make it.
"I've got to be realistic, and I'm kind of taking it day by day – but fingers crossed I can finish it really!"
The run is supposed to take him a year, but due to health issues, including plantar fasciitis which caused him to run bare foot, it could take longer.
Microsoft has helped him with a tracker device so that he will be safer on the run and also have more access to social media where he regularly updates his followers on his progress.
Source: Read Full Article