Armistice Day commemorations in France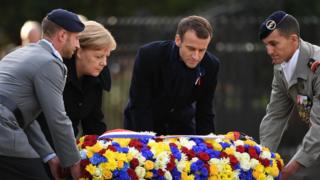 Armistice Day this Sunday marks 100 years since the end of World War One on 11 November 1918.
Events have been taking place in France ahead of a gathering of around 70 world leaders in Paris on Sunday. Memorials will also be held around the world to commemorate a conflict that claimed the lives of millions.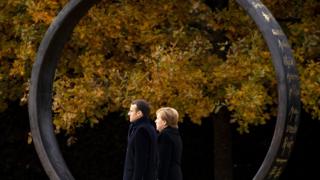 Mr Macron and Mrs Merkel attend a ceremony on Saturday at the site of the Armistice talks at the Forest of Rethondes in Compiègne, France.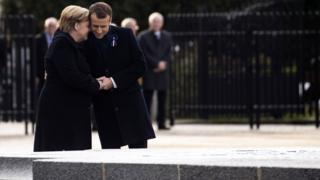 As part of Saturday's ceremony, the two leaders unveiled a plaque to honour the restoration of friendly relations between their two nations.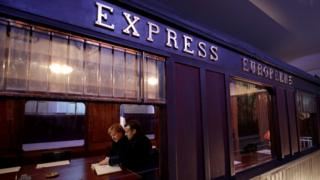 The pair later signed a guestbook inside a replica of the train wagon where the Armistice was signed back in 1918.
They took a moment as they entered the railway wagon, which was parked in the original location of a forest clearing.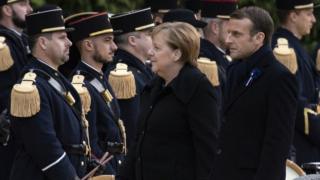 Mrs Merkel and Mr Macron met French soldiers as part of the ceremony.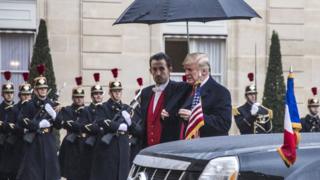 US President Donald Trump was at the Élysée Palace in Paris earlier on Saturday for talks with Mr Macron. Mr Trump tweeted he was "ready to celebrate the end of World War One".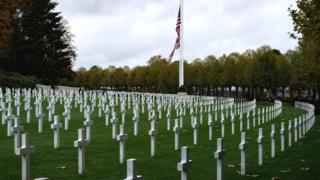 The Aisne-Marne American Cemetery and Memorial in Belleau, France. Mr Trump was due to visit the site on Saturday but cancelled due to "scheduling and logistical difficulties caused by the weather".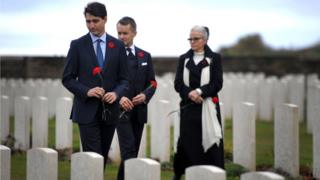 Elsewhere in France, Canada's Prime Minister Justin Trudeau, seen here on the left, visits the Canadian National Vimy Memorial for fallen soldiers in northern France.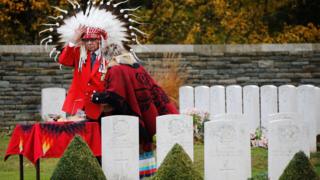 Mr Trudeau was joined at the military cemetery by Canadian veterans and members of the Samson Cree Nation indigenous community.
All images are subject to copyright.
Source: Read Full Article