The old-world charm of the photo studio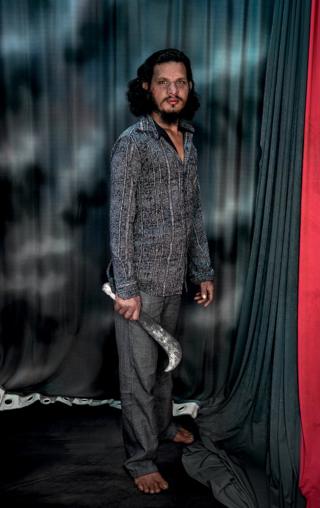 In 2014, Ketaki Sheth, an award-winning Indian photographer, began shooting portraits of visitors to the Jagdish Photo Studio in Manori, a coastal village in the western state of Maharashtra.
She says she stumbled across it – "wedged between a hardware store and a grain depot" – by chance.
"I poked my head in and saw a bright blue stool against a diaphanous cascading red backdrop," she told the BBC by email.
"That was it. I was hooked."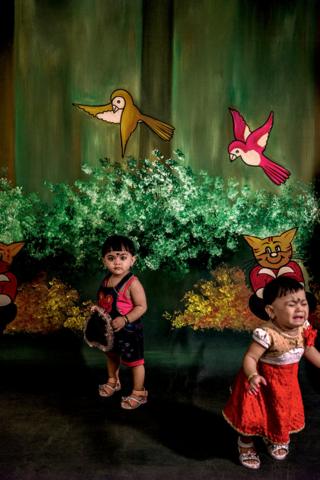 She spent several weekends at Jagdish Photo Studio over the next six months – and as she photographed locals, she says she "felt the need to spread my wings to other parts of India and see what I could find."
So in 2015, she began travelling to photo studios across India. She went to eight states and visited more than 60 studios. Some subjects welcomed the lens while others – such as one of the twins in the photograph above who came in for their "birthday pictures" – did not.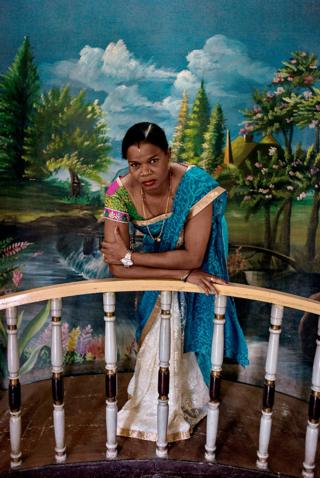 "The idea of a book took hold only when I felt I had enough good pictures," Ms Sheth said.
The result is Photo Studio, a collection of 69 startling portraits.
The images range from shots of inanimate objects – props and backdrops – to intimate portraits of the studio's customers.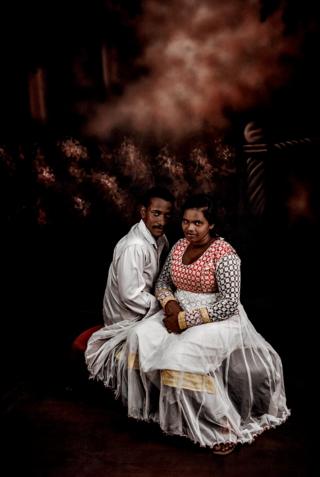 The couple in the photo above, for instance, were in the studio to have their passport photos taken. But when Ms Sheth asked them if they would pose for her on the loveseat, they agreed.
"Apart from their haunting pairing, the folds on her tunic form an essential part of the image," Ms Sheth says. "And against the dreamlike backdrop painted with its flora and architectural columns, and her flowing tunic, there seems to be a mist in the backdrop which further enhances the surreal quality to the image."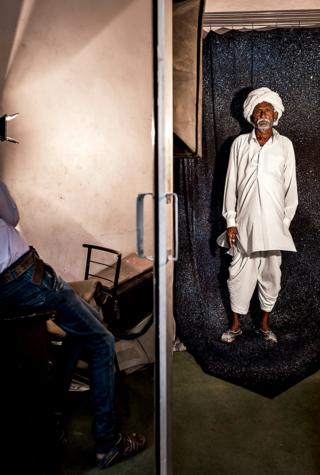 Similarly, this farmer had come to the studio because he needed a photograph for documents pertaining to his land.
"My photographs are a residual memory of a moment once cherished, but now fast eroding in the age of the smartphone," Ms Sheth writes in a detailed note that explains the process and motivation behind this series.
While some studios remain busy, many are dilapidated and lack a steady stream of customers. So Ms Sheth often found herself enlisting locals to pose for her. She says she sometimes noticed people passing by on the street and invited them inside to sit for her – such as these two boys in the picture below.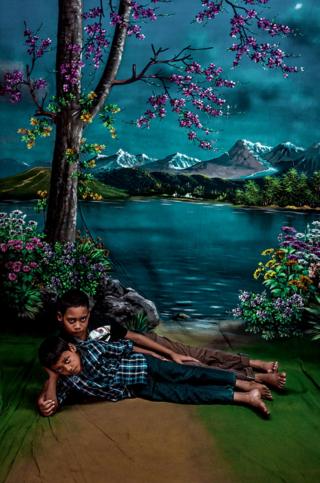 And then there were some who refused to be photographed.
Ms Sheth says one of her favourite photographs from the series is what she calls the "reluctant bride". She recalls that the woman had come to what was her favourite studio to be photographed. But she was tired and refused Ms Sheth's request to take a portrait of her.
So Ms Sheth decided to refocus the shot. "The studio photographer became the protagonist here," she explains. "My image is him stooped over his camera and his subject is the bride – it works because of these absences despite their presence. The hint of her sari is the only suggestion that she is there."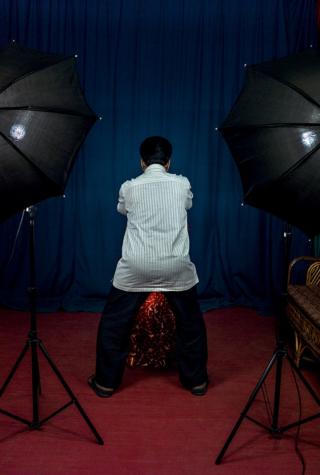 India's photo studios have been the subject of other photographers' works but Ms Sheth's approach was unconventional – she used bright yet old studio lights if they were available and a single handheld camera to tint her photography with a sense of nostalgia.
While she has been a photographer for more than three decades, she didn't use a digital camera until 2013. She had always used black and white film.
"I acquired my first digital camera in 2012 and it lay unused for a year partly because of my reluctance to let go of film and chemistry," she says. "Scarce supplies pushed me to digital and colour for the first time, which I soon grew to love."
At a time when taking photos has become increasingly easy, Ms Sheth says she was drawn to those who sought out being photographed in a studio.
"Maybe there is still some magic in going into a darkened room with a fantasy," she said. "Seeing an image of yourself in another place or another time."
Ketaki Sheth is based in Mumbai and London.
Source: Read Full Article