The Indian princess who became a South Korean queen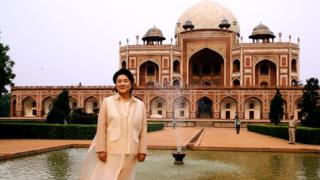 The South Korean first lady, Kim Jung-sook, is in the northern Indian state of Uttar Pradesh where she is visiting the ancient city of Ayodhya.
Ayodhya, which is best known as the birthplace of the Hindu god Ram, also however, holds special significance for some South Koreans – many believe they can trace their ancestry to the city.
This belief comes from several historical Korean stories, which tell the story of an Indian princess – Suriratna – who married a South Korean king and started a dynasty.
What does the legend say?
According to the legend, Princess Suriratna, also known as Heo Hwang-ok, went to Korea in 48 AD, some 2000 years ago, and started the Karak dynasty by marrying a local king.
Some Chinese-language texts claim that the then King of Ayodhya had a dream where God ordered him to send his 16-year-old daughter to South Korea to marry King Kim Suro.
A popular South Korean book comprising fables and historical stories, Samguk Yusa (Memorabilia of the Three Kingdoms), mentions that Queen Hwang-ok was the princess of "Ayuta" kingdom.
The royal couple prospered. They had 10 sons and both lived to be over a 150 years old.
An anthropologist named Kim Byung-mo Ayuta appeared to confirm the widely held belief that Ayuta was actually Ayodhya, as the two names are phonetically similar.
But there is no clear evidence to show that the princess even actually existed.
"Her origin story is considered to be mythical and is not considered to be history by academics," says David Cann of the BBC's Korean Service.
"There have been several fictional renditions of the story as there is plenty of room for imagination."
The Karak dynasty
Kim is a common surname in Korea and King Kim Suro is considered to be the father of the Kim clan which is based in Gimhae.
"While traditionally children in Korea take their father's surname, the queen is said to have been sad that her children could not bear her surname," says Minji Lee of the BBC Korean Service.
"The legend says that therefore King Suro allowed two of their sons to take her name (Heo), which is used to this day."
Today, historians say, descendants of the couple number more than six million, which is roughly about 10% of the South Korean population.
People from the Karak dynasty have also preserved the rocks that are said to have been used by the princess during her sea voyage to Korea to keep her boat stable.
Former South Korean president Kim Dae-jung and former prime minister Kim Jong-pil claim their ancestry to the Karak dynasty.
Is the legend popular in South Korea?
Some of our colleagues in the BBC Korean Service say that they have heard about this legend but don't believe it's a widely talked-about story because "it goes back so far in the past".
"I remember hearing about it when I was in primary school or junior high and my friends and I were fascinated how our ancestry involves someone from so far away," says Ms Lee.
Some say that there is speculation that the princess is actually from Thailand since Ayuta may actually be Thailand's Ayutthaya Kingdom.
Stories on the internet say that some people from Gimhae refer to this legend "like a family joke" especially if they have darker skin, attributing it to their "ancestor who may or may not have come from India".
"Some believe that while it may be true that she came from a 'southern country over an ocean' the story was heavily embellished when Buddhism took root in Korea," says Mr Cann, who also remembers going to see a musical rendition of the legend as a child.
How has the legend impacted modern ties?
An agreement was signed to develop Ayodhya and Gimhae as sister cities in 2000.
Then in 2001, more than 100 historians and government representatives, including the North Korean ambassador to India, unveiled Queen Hwang-ok's memorial on the west bank of the River Saryu in Ayodhya.
Every year, people who claim to be from the queen's lineage come to Ayodhya to pay tribute to the princess at her motherland.
In 2016, a Korean delegation sent a proposal to the Uttar Pradesh government to further develop the memorial.
As part of her visit from 4 to 7 November, the first lady will attend a ceremony that marks a start on the upgrade of the monument – a joint project between South Korea and India.
Prof Kim Do-young, a Delhi-based expert on Korean studies, says that this shared history started being recognised in India "after diplomatic and economic relationship" between the two countries developed.
"Whether it is history or legend – based on it – mental or spiritual gap [between the people] is reduced and a common cultural ground is made," he adds, pointing out that it's interesting that there maybe an "ancient bond" between the two nations.
Queen Hwang-ok's story has been and can be the "foundation for building better relations" between South Korea and India.
Prof Young says the South Korean first lady's visit is yet another step towards that.
Source: Read Full Article