Malaysia profile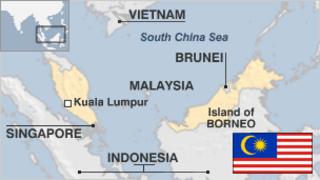 Malaysia boasts one of south-east Asia's most vibrant economies, the fruit of decades of industrial growth and political stability.
Consisting of two regions separated by some 640 miles of the South China Sea, Malaysia is a multi-ethnic, multi-religious federation of 13 states and three federal territories.
The majority Muslim ethnic Malay are dominant politically, and benefit from positive discrimination in business, education and the civil service, but a large ethnic Chinese minority holds economic power. The communities coexist in relative harmony, although racial and religious divides persist.
The country is benefiting from a growth in manufacturing, and is a major tourist destination, but there are fears that development could harm the environment, particularly the rainforests of northern Borneo, which are under pressure from palm oil plantations and illegal logging.
FACTS
Federation of Malaysia
Capital: Kuala Lumpur
Population 31 million (UN, 2012)
Area 329,847 sq km (127,355 sq miles)
Major languages Malay (official), English, Chinese dialects, Tamil, Telugu, Malayalam
Major religions Islam, Buddhism, Taoism, Hinduism, Christianity, Sikhism
Life expectancy 73 years (men), 78 years (women)
Currency Ringgit
LEADERS
Head of state: Sultan Muhammad V
Sultan Muhammad V was sworn in as the 15th paramount ruler, Malaysia's head of state, in December 2016. The post of paramount ruler is rotated every five years among the sultans of the nine Malay kingdoms.
Prime minister: Mahathir Mohamad
Mahathir Mohamad became prime minister in May 2018 following his shock election victory over the coalition that has ruled the country for six decades since independence from Britain.
Mr Mahathir ruled Malaysia with an iron fist from 1981 to 2003. He started his new term at the age of 92 – the oldest elected leader in the world.
His alliance of four parties trounced the Barisan Nasional (BN) coalition of Prime Minister Najib Razak, who was once Mr Mahathir's protege but became his most bitter rival.
MEDIA
Malaysia has some of the toughest censorship laws in the world. The authorities exert substantial media controls and can impose restrictions in the name of national security.
Privately-owned TVs have close ties to the ruling coalition, while state outlets reflect government views.
Most privately-owned print titles are run by parties or business groups allied with the ruling coalition.
The internet is the main platform for free political debate.
TIMELINE
Some key dates in Malaysia's history:
14th century – Conversion of Malays to Islam begins.
1826 – British settlements of Malacca, Penang and Singapore unite; British begin to establish protectorates over the Malay sultanates of the peninsula.
1895 – Four Malay states combine to form the Federated Malay States.
1942-45 – Japanese occupation.
1948 – British-ruled Malayan territories unified under Federation of Malaya.
1957 – Federation of Malaya becomes independent.
1965 – Singapore withdraws from Malaysia.
2001 – Malaysia, Singapore resolve long-standing disputes, and agree to build a new bridge and tunnel.
2003 – Prime Minister Mahathir Mohamad steps down after 22 years in office.
Source: Read Full Article