US man pleads guilty to killing his family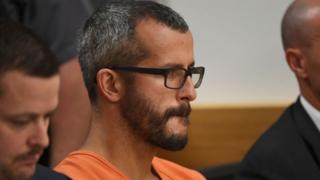 A Colorado man, Chris Watts, has pleaded guilty to killing his pregnant wife and daughters.
The district attorney agreed to drop the death penalty in exchange for Mr Watts accepting all nine charges against him as part of a plea bargain.
Shanann Watts, 34, who was 15 weeks pregnant, and their daughters, Celeste, three, and Bella, four, were reported missing in August.
The children's bodies were found in oil tanks by their mother's shallow grave.
Watts was formally charged with murder, tampering with deceased bodies and unlawful termination of a pregnancy.
He had previously claimed that after telling his wife he was having an affair, she had killed one of their children and was trying to kill another when he attacked her.
Watts could now reportedly face three consecutive life terms at a sentencing hearing, scheduled for 19 November.
According local media, Weld County district attorney Michael Rourke said at a news conference that Shanann Watts' family did not press for the death penalty due to the "extraordinary delays" seen in such cases.
"That, to me, was the most important consideration in deciding how to proceed with this case," Mr Rourke said.
Watts initially spoke to the media after his wife and children were reported missing in August.
"I hope that she's somewhere safe right now and with the kids," he told ABC-affiliated news channel Denver7.
Less than 24 hours later, police announced he had been arrested.
Source: Read Full Article