Pittsburgh synagogue massacre: Suspect Robert Bowers appears in court in wheelchair
Robert Bowers, 46, who was shot and wounded in a gun battle with police, was released from hospital on Monday morning and turned over to authorities.
He was wheeled into a courtroom a few hours later and was ordered to be held without bail for a preliminary hearing on Thursday.
Prosecutors will then outline their case against him.
Bowers talked with two-court appointed lawyers, went over documents, and confirmed his identity to a judge.
The alleged gunman, who is facing 29 charges, said little more than "yes" a few times during the hearing.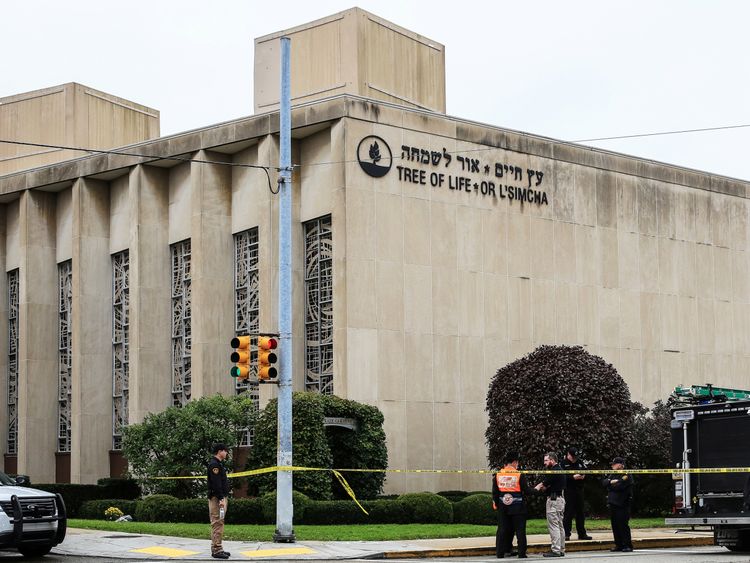 At one point courtroom staff freed one of his hands from cuffs so he could sign paperwork.
Prosecutors set in motion plans to seek the death penalty against the truck driver, with the killing at the Tree of Life Synagogue believed to be the deadliest attack on Jews in US history.
Authorities claim he expressed hatred of Jewish people during the massacre on Saturday, and told police afterwards: "I just want to kill Jews" and "all these Jews need to die".
Bowers was taken to the Allegheny General Hospital after the shooting, where he is said to have been treated by a Jewish nurse.
The hospital's president Dr Jeff Cohen, who is a member of the Tree of Life synagogue, told CNN: "Isn't it ironic that somebody who is yelling in the ambulance and in the hospital 'I want to kill all the Jews', is taken care of by a Jewish nurse, and it's a Jewish hospital president that comes in to check on him."
Bowers was charged with nearly 30 offences on Sunday that included hate crimes and weapons offences.
He was also charged with criminal homicide, aggravated assault and ethnic intimidation.
The alleged gunman has appeared in court as the White House announced President Donald Trump will be visiting Pittsburgh on Tuesday to mourn the mass shooting.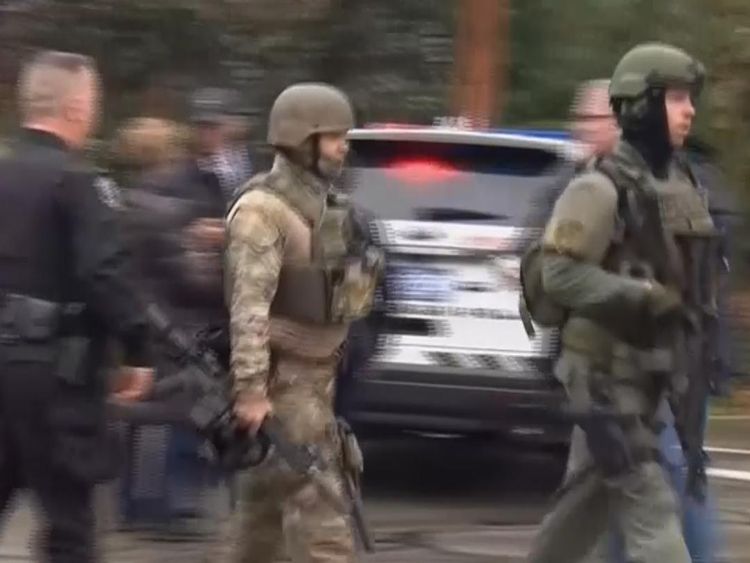 Bowers killed eight men and three women before a police tactical team shot him, authorities claim.
The oldest victim, Rose Mallinger, was 97.
Six other people were wounded, including four police officers.
Four of the wounded remained in hospital on Sunday night, two in critical condition.
The first funeral for victims has been set for the same day, with a service due to take place for Cecil Rosenthal and his younger brother David.
Survivors have offered harrowing accounts of the mass shooting in Pittsburgh.
Barry Werber, 76, said he found himself hiding in a dark storage cupboard as the gunman walked through the building.
He said: "I don't know why he thinks the Jews are responsible for all the ills in the world, but he's not the first and he won't be the last.
"Unfortunately, that's our burden to bear.
"It breaks my heart."
The weekend massacre, which took place 10 days before the midterm elections, has heightened tensions across the US.
It came just a day after the arrest of a Florida man accused of sending a wave of pipe bombs to critics of President Donald Trump.
Source: Read Full Article