Michelle Obama opens up about IVF in memoir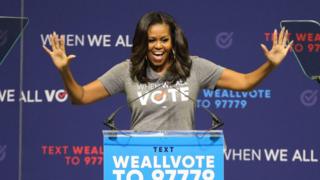 Former first lady Michelle Obama has released a memoir in which she reveals difficulties about her pregnancy with her two daughters.
In the book, Becoming, Mrs Obama reveals that she had a miscarriage and used in vitro fertilization to conceive both children, Malia and Sasha.
Mrs Obama told ABC's Good Morning America she felt "lost and alone" after her miscarriage 20 years ago.
She also criticised Donald Trump for "putting my family's safety at risk".
In Becoming, Mrs Obama says she would "never forgive" President Trump for championing the "birther" theory that her husband, former President Barack Obama, was not born in the US, according to excerpts obtained by US media.
"The whole [birther] thing was crazy and mean-spirited, of course, its underlying bigotry and xenophobia hardly concealed," she wrote.
"What if someone with an unstable mind loaded a gun and drove to Washington? What if that person went looking for our girls? Donald Trump, with his loud and reckless innuendos, was putting my family's safety at risk. And for this I'd never forgive him."
Source: Read Full Article