Key takeaways from election results so far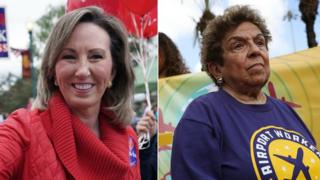 The 2018 US mid-term election has seen record turnout and returns are streaming in. Here are some key takeaways and the most consequential results so far.
If a Democratic wave election is coming, Virginia congresswoman Barbara Comstock was always going to be the one the first to disappear beneath the deluge. Her defeat, which was announced relatively quickly, wasn't a big surprise. But it's also one of the first data points to suggest that Democrats are doing what they have to do to take back the House of Representatives.
The southern Miami district that had long been the home of Republican Ileana Ros-Lehtinen was expected to be another easy pickup for the Democrats – and it was. Hillary Clinton beat Donald Trump there by 20% in 2016.
And though the Republican, charismatic young Spanish-language television host Maria Salazar, ran a strong race against former Clinton administration health secretary Donna Shalala, even the best candidates can't hold back the tide in districts with such a decided partisan tilt.
With polls closing all along the east coast, the biggest races are still too close to call. Democrats in the Senate who appeared poised to win easy re-elections – like Tim Kaine in Virginia and Sherrod Brown of Ohio – did so. Tighter Senate matchups, in Florida and Indiana, appear headed to go down to the wire.
In fact, in that Indiana race – where Joe Donnelly is seeking re-election – Democrats may be starting to sweat. Donald Trump won the state by 16% in 2016, and if the incumbent falls here, it could be bad news for the four other Democrats trying to stay afloat in states the president won by double-digits.
19:00 EST (00:00 GMT) What we learned from the exit poll
The 2018 US mid-term election has already set records for early voting, and turnout appears to be up across the board. But what is on the minds of Americans as they head to the ballot box? A CBS News exit poll offers some clues.
Donald Trump is a factor for 65% of American voters – and of those, 39% said they oppose him versus only 26% in support. The president has been ever-present in news coverage, holding numerous impromptu press sessions and formal interviews and criss-crossing the US, sometimes appearing at multiple rallies in the same day.
Unlike past presidents facing potentially unfavourable mid-term elections, Mr Trump hasn't shied from the spotlight – and it looks like he's succeeded in making this vote about him.
Overall, Donald Trump's approval rating among the electorate sits at 44% – which is nearly spot-on the current RealClear Politics poll average of 43.6%. If history is any guide, the party of a president with that level of support is in for a rough time in a mid-term election.
Perhaps the most striking finding of the poll is that 43% of American mid-term voters named healthcare as the top issue for them. Democrats have campaigned heavily on the topic – attacking Republican attempts last year to repeal Obamacare health insurance reforms. If that's what voters are thinking about, it's an indication that Democrats accurately had the pulse of the electorate.
Immigration, which has been Mr Trump's main focus in the final days of campaigning, is a distant second at 23%. The economy, which traditionally is at the top of voters' minds, is a close third with 21%.
In what could be another bit of good news for Democrats, 80% of voters in the exit poll said it was important to elect women this year. Nearly 200 Democratic women are running for Congress this year, compared to just 59 Republicans.
Other exit polls show similar numbers. And while the findings are far from definitive, they do suggest that the national playing field for Democrats this year is tilted in their favour.
Source: Read Full Article