Americans vote in key election for Trump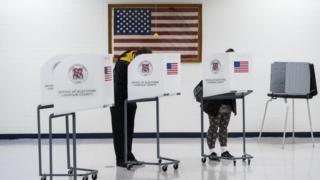 Americans are voting in nationwide elections that are being seen as a referendum on Donald Trump's presidency.
Polling stations opened at 06:00 (1100 GMT) on the East Coast, as Republicans and Democrats battle for control of the two houses of Congress.
Governor posts and seats in state legislatures are also up for grabs.
The mid-term elections come halfway through Mr Trump's four years in office and follow a divisive campaign.
All 50 states and Washington DC will go to the polls, and voter turnout is expected to be high.
Share this chatbot
Source: Read Full Article