Uganda pop star back on stage after arrest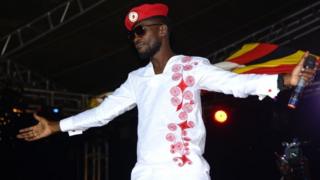 The Ugandan pop star turned opposition MP Bobi Wine has performed for the first time since being charged and jailed for treason.
There was a heavy police presence for the show, which was only allowed because it was a non-political event.
Bobi Wine has alleged he was tortured and beaten while in custody in August, something denied by the authorities.
His popularity among Uganda's youth is seen as a challenge to veteran President Yoweri Museveni.
Many among the thousands attending the concert wore red, the colour associated with Bobi Wine's 'people power' political movement.
"I thank Uganda police for providing us security and not stopping us as they have always done," the performer told the crowd, AFP reported.
"We are a peaceful people but we want to be listened to."
Thank you @eddykenzoficial ??#KyarengaBusabala pic.twitter.com/sDnKyqPSAT
End of Twitter post by @HEBobiwine
The 36-year-old MP, whose real name is Robert Kyagulanyi, stood and won as an independent candidate in a by-election last year in Kyadondo East, central Uganda.
In August he and more than 30 other opposition politicians were charged with treason after the president's convoy was allegedly pelted with stones after a campaign rally.
He left Uganda for treatment in the US for injuries he said he received under detention but returned in September.
Three-quarters of Uganda's population is under the age of 35 and Bobi Wine has become a rallying figure for a youth angry at poor job prospects and stagnant politics, correspondents say.
Bobi Wine was born four years before Mr Museveni first became president in 1986 and has been calling for him to retire at the next elections, in 2021.
The self-declared "ghetto president" is yet to say whether he wants to run himself.
Source: Read Full Article