Arrests over Zanzibar 'gay wedding'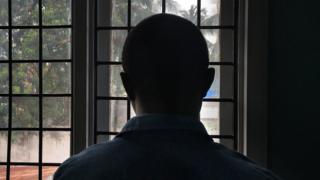 Ten men have been arrested for allegedly conducting a same-sex marriage ceremony on the Tanzanian island of Zanzibar.
The arrests were made on Saturday night at a beach resort, a senior police officer told the BBC.
In recent years there have been a number of measures that appear to have targeted homosexuals in Tanzania.
But this week the Tanzanian government distanced itself from anti-gay rhetoric from a prominent politician.
No charges have yet been brought against the men, all Tanzanian, who are being held at a police station.
Six other men escaped after police, who are believed to have received a tip-off from members of the public, raided the party, according to rights group Amnesty International
Amnesty's East Africa Deputy Director Seif Magango said that it was "mind-boggling that the mere act of sitting in a pair can assume criminal proportions".
He added that he feared the men may be subjected to forced anal examination and called for their immediate release.
Surveillance squads
The arrests come after Paul Makonda, the regional commissioner for the commercial capital Dar es Salaam, last week called on the public to report the names of suspected gay men to the police.
He further said he would set up a surveillance squad to track down gay people.
Tanzania's government, however, distanced itself from the move, saying that "Mr Makonda was only airing his personal opinion", not government policy.
It added that the government would "continue to respect and uphold all human rights as provided for in the country's constitution".
Anti-gay rhetoric
Homosexual acts are illegal in Tanzania, where statements against homosexuals have been on the rise since President John Magufuli's election in 2015.
Last year, the country's deputy health minister defended a threat to publish a list of gay people.
Tanzania also deported three South African lawyers after they were accused of promoting homosexuality.
They were among 13 people arrested for taking part in a meeting to discuss challenging a law stopping private health clinics from providing HIV and Aids services.
Source: Read Full Article