After the Mugabes, which African dynasties remain?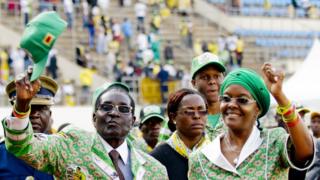 With Robert Mugabe's hopes of handing power to his wife in Zimbabwe over, which political dynasties are still going strong elsewhere in Africa?
Since the 1990s, multi-party elections and peaceful transfers of power have become far more common on the continent but quite a few current leaders have succeeded their fathers, or are planning to hand power to their sons. (Daughters seem to be less favoured.)
Some dynasties have established themselves through assassinations, coups, and rebellions, while in Zimbabwe's neighbour, South Africa, President Jacob Zuma is hoping to hand power to his ex-wife in the coming years.
Togo: Oldest dynasty
A former French colony, it has been ruled by the Eyadema family for the last 50 years, making it the dynasty that has been in power for the longest period.
And of all the governments currently in power in Africa, it is under the greatest threat of being overthrown in a mass uprising. Crowds of up to 800,000 have repeatedly taken to the streets since August, demanding an end to dynastic rule in the country of 6.6 million.
Protesters accuse the government of tinkering with the constitution so that President Faure Gnassingbé can remain in power until 2030. The government denies this, insisting that it will introduce a two-term presidential limit ahead of elections in 2020.
With the backing of the military, Mr Gnassingbé became president in 2005 after the unexpected death of his father, Gnassingbé Eyadema, at the age of 69. Later, he won two elections, which were denounced by the opposition as a sham.
Faure has shared, or has tried to share, the spoils of power with his family. He appointed his half-brother, Kpatcha, to the all-important post of defence minster after taking office.
However, the two fell-out, and Kpatcha was sacked as defence minister in 2007.
Faure accused him of trying to dethrone him. Kpatcha, in turn, accused the president of plotting to assassinate him. Faure won the power-struggle, had his half-brother arrested, and sentenced to 20 years in prison.
But his reputation for ruthlessness is nothing compared to that of his late father.
As a 28-year-old army sergeant, Eyadema was widely suspected to have fired the shots which killed Togo's first post-independence president. Then, on 13 January 1967, the third anniversary of the assassination, Eyadema himself seized power in a bloodless coup.
When he died, he held the title of Africa's longest-serving ruler. He had been on the political throne for 38 years.
Gabon: 'Kleptocratic regime'
Also a former French colony, it has Africa's second oldest political dynasty. A Christian convert to Islam, Omar Bongo took power 11 months after Eyadema, and ruled for nearly 42 years until his death in 2009.
He left his son Ali Bongo Ondimba, a fortune worth millions of dollars, and the country. He did win an election, although the opposition said it was rigged.
After France launched a corruption investigation against the family, the president of the oil-rich nation announced in 2015 that he would spend his entire inheritance on development projects, including starting a university and a youth foundation.
French police investigations identified that Bongo family assets included 39 properties in France, located in affluent areas of Paris and on the French Riviera, as well as nine luxury cars, including Ferraris and Mercedes.
Rights groups say the Bongos have turned Gabon into a "kleptocratic regime", which loots its natural resources, oil wealth and rainforests – an allegation the family strongly denies.
In 2015 Argentinean football star Lionel Messi came under heavy criticism for visiting the Central African state.
He laid the first stone at the construction site of a football stadium for the 2017 Africa Cup of Nations.
Bongo denied giving Messi money to visit Gabon, saying: "When I was in Barcelona a few years ago, I met Messi who had told me that he would come to visit me in Libreville," he said.
"It's a promise he made me. He is a man of honour who just kept his word."
Equatorial Guinea: Luxury cars and Michael Jackson gloves
A former Spanish colony, it currently has Africa's longest-serving ruler, Theodoro Obiang Nguema.
Said to be one of Africa's most brutal leaders, he seized power in 1979 after overthrowing independence leader President Francisco Macias Nguema, his uncle, and having him executed.
According to campaign group Human Rights Watch, the "dictatorship under President Obiang has used an oil boom to entrench and enrich itself further at the expense of the country's people".
The president's 48-year-old son, Teodorin Obiang, is his deputy, putting him in pole position to inherit power.
Known for his flamboyant lifestyle, Teodorin is a fugitive from justice. In October, a French court convicted him in absentia of embezzlement.
It ordered the seizure of his assets in France, including a $29m (£22m) mansion.
He also boasted 18 luxury cars in France, artworks, jewellery and expensive designer fashions,
The Paris judge found that the president's son had used his position as agriculture and forestry minister to siphon off payments from timber firms who were exporting from Equatorial Guinea.
In November, Swiss prosecutors seized 11 luxury cars belonging to Mr Obiang junior. They said he had plundered his country's oil wealth to buy luxuries, including a private jet and Michael Jackson memorabilia.
Teodorin denies all allegations of wrongdoing.
Uganda: 'Playing God'
A former British colony, it is ruled by ex-rebel leader Yoweri Museveni. He seized power in 1986, won a fifth term in 2016, may run for a sixth term and could eventually hand power to his son.
In January, the speculation gained impetus when Mr Museveni promoted Maj Gen Muhoozi Kainerugaba, his eldest son, to become a special presidential adviser in a reshuffle of army commanders.
Having graduated from British Royal Military Academy Sandhurst in 2000, Maj Gen Kainerugaba rose rapidly within the military. Last year, he was promoted from brigadier to major general.
Others believe that Mrs Museveni's wife also harbours presidential ambitions. Having served in government since 2009, she is currently the minister of education and sports in her husband's cabinet.
For now though, there is a push to give Mr Museveni, 76, another term.
Uganda's ruling party wants parliament to scrap the presidential age limit of 75, a move that could allow Mr Museveni to stand for re-election in 2021. It has led to ruling and opposition MPs brawling in parliament, as emotions rise over the plan.
The move has not come as a surprise. In 2013, renegade army General David Sejusa accused Mr Museveni of "playing God" in Uganda.
"The central issue is a political monarchy – a life presidency and then transiting [to] a political monarchy," he said.
"It is a terribly common African story. There is nothing strange about it," the renegade general added at the time.
DR Congo: Dynasty replaces an autocrat
A former Belgian colony, the Democratic Republic of Congo has been ruled by the Kabila family since 1997, when Laurent Kabila stormed the capital, Kinshasa, with the backing of regional armies, ending the 32-year rule of Mobutu Sese Seko.
Kabila was assassinated in 2001 by his bodyguards, resulting in the military installing his son, Joseph, as president.
After serving two elected terms, Joseph was supposed to step down in 2016 as the constitution bars the president from running for a third term.
However, the electoral commission says it will be ready to hold an election only next year, leaving Mr Kabila in power until then, despite massive opposition protests and international condemnation.
His sister, Jaynet, and brother, Zoe, are MPs,
The family has built a huge business empire, with a stake in banks, farms, airline operators, a road builder, hotels, a pharmaceutical supplier, travel agencies, boutiques and nightclubs, according to Bloomberg news agency.
South Africa: Divorcees make up
A beacon of hope in Africa during anti-apartheid icon Nelson Mandela's rule, it could be the next African country to have a dynastic succession, of sorts.
Its polygamous President Jacob Zuma is campaigning for his ex-wife, Nkosazana Dlamini-Zuma, to succeed him as leader of the governing African National Congress (ANC) at its conference next month, and as president in 2019.
Ms Dlamini-Zuma deeply resents being described as President Zuma's ex-wife, and has complained about such headlines.
She insists that she is a politician in her own right who took part in the anti-apartheid struggle, served in various ministerial posts since the advent of democracy in 1994, and became the chairwoman of the African Union (AU) commission before joining the presidential race.
Her critics say this may well be the case, but Mr Zuma has chosen her as his political heir because she is unlikely to put him – the father of their children – in jail.
Mr Zuma has been accused of widespread corruption, with the Supreme Court of Appeal ruling that he should be tried on 18 counts of corruption, racketeering, money laundering and bribery – all of which he denies.
His critics say he also needs his ex-wife in power so that his favourite son from another wife, Duduzane Zuma, is safe from prosecution.
Critics allege that he is abusing his relationship with his father to win government contracts for himself, and his business partners, the wealthy Gupta family. They all deny the allegations, insisting that they are not corrupt.
Ms Dlamini-Zuma's main challenger is Deputy President Cyril Ramaphosa, a former business tycoon and trade unionist. His supporters are hoping that the Zimbabwean crisis will boost his chances of winning, as ANC members grasp the dangers of a dynastic rule.
Source: Read Full Article